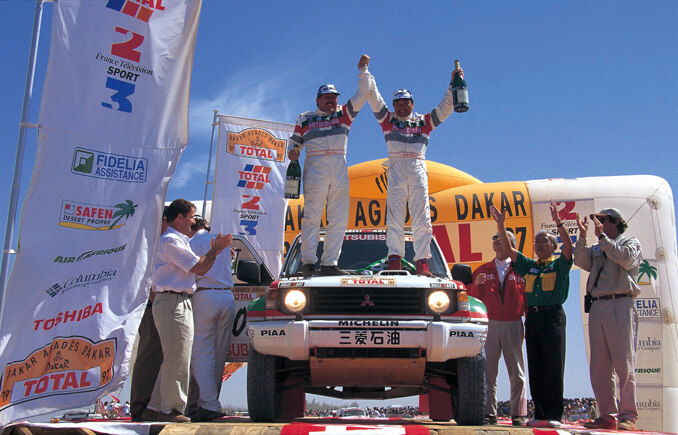 DAY4
From 70-78, passing on the power. Supporting to students in the world
Today we will hear the opinions on the younger generation of Mr Kenjiro Shinozuka, a man who has raced many different positions and styles in his life.
E: It's a big pity, but the young people today are not watching rallies as much as they did in the past.
S: That's right. It's truly a pity, it seems like there aren't people these days that want to make rallying a popular sport.The fact that there are nearly no Japanese drivers is a big problem.Therefore Toyota are working really hard to raise some.
E: Even more than that, it's not just limited to rallies, but young people seem to be moving away from cars.
Very young boys are still the same, and they like toy cars and real cars, just like before. However, in the 90s cars were popular and everyone wanted to drive a Toyota, so many people wanted to work at car manufacturers.
Now, however, there are so many young people and so many options for them, perhaps too many, right.
S: Actually the solution to the problem is really rather simple.
Someone becomes a rally driver, wins a famous worldwide race, then marries so and so actress or dates a beautiful girl, then earns 2 billion yen a year. If someone can do all that, in a heartbeat everything will change. However, at the moment there's no-one like that.
E: I see, like saying "earn more money than YouTube"!If a comet were to appear somewhere, suddenly such a driver would soon follow.
S: That's right. Since long ago people's desires have not changed much, they are simple to understand. At the moment Toyota are conducting a plan where they audition for 2 drivers to send to Finland to study, who will then drive their hardest in European rallies for Toyota. It's already been 3 years since this process started.
E: It seems that motor sports are truly spearheaded by the car manufacturers.
S: Yes, it's a really expensive sport. How many billions of yen does it take to make a champion. A private individual can't afford it.
In truth Toyota did the same thing once before in 1991. Though at that time it seemed to be in order to oppose me.
E: That's to say to assassinate?
S: In 1990 I got 5th place at the World Safari Rally. The winner was Toyota.
However, the newspapers were filled with Shinozuka Kenjiro 5th! "Note, the winners were Toyota", was more like a one line after thought.
E: Wow, that's harsh (laughs).
S: At that time, Toyota rallying was in a different league.
"They get used this much, but this the result!", were the words that probably filled the Vice President of Toyota's head.
So in 91 they held auditions and found a young man called Fujimoto, then sent him to study in Finland for a year. He then appeared in all the overseas rallies that I entered.
E: That means they were taking your seriously.
Now then, at the moment you are driving a solar car, right Mr Shinozuka? You are also coaching students, right.
S: I'm already 70 years old, I've had my 70th birthday (at the time of the interview). I intend to keep driving until my 77th birthday.
Therefore I thought about putting 70th Birthday to 77th Birthday on the team shirt.
I have been coaching the Tokyo University Engineering Department 3rd year team for 7 years now. From the Tokyo University home page:
Specifically, preparation and repairs of cars, race entry in English, plane and hotel bookings, procedures for transporting cars by ship.
There are also opportunities for travelling together to Monaco and France, and having team food parties.
A very popular club where you can earn credits too!
People think that Tokyo students are smart, so they can accomplish anything they put their minds to.
Therefore, don't just graduate, whilst you're here, wouldn't you like to experience many new things, have a chance to exercise and pick up many practical skills.
E: I see. Then they will benefit from your experience.
S: Maybe, but I try to hold back as much as possible from giving advice. Making mistakes is important too.
Of course, if there's a real risk of danger during maintenance or something then I'll speak up.
Accounting for the many mistakes that will crop up is part of schedule management after all (laughs).
E: Amazing.
S: From then, in Dakar, the capital of Senegal and final goal of the Paris-Dakar rally, in 2002, they named a school after me (Shinozuka elementary school).
After the race finished I took stationary there.
However, in 2008 the situation in Senegal became unstable and the race was moved to South America. In January of 2019, as a challenge for myself I took stationary to the school again for the first time in 12 years. I took donations from an elementary school in Hokuto, Yamagata prefecture where I live, the kids really gave a lot. Being able to connect them to the far away children in Senegal was great. So towards the end of January 2020 I went to donate them to the school in Senegal.
From the Senegal Embassy Home Page: 2020 will be the 60th anniversary of Senegal's independence, so lets make this a year of reaching out and forming strong bonds with other countries. I don't know if the rally will be held next year, but next time I think I'll be taking masks and soap.
They say that the reason for Japan's low Corona infection rate is the culture of washing hands we have here, so remember to wear your mask and wash your hands.
E: This is a wonderful social initiative that only you Mr Shinozuka could do.
I truly hope that this relationship will continue till the end of days.
S: Thank you.
<Contents finished>
Started horse-riding, bicycles, motor bikes, light vehicles, 4 wheeled drive cars, big trucks, to solar cars.
"Riding" and "driving", these were fated. Moreover, without changing his ways he lived life to the full, connecting euphoria and splendidness, leading to the completion of his dream. Most people have a treasure like this but keep it hidden inside until it comes to be born. Most likely the key to discovering this treasure is, like Mr Shinozuka, unexpectedly gaining a chance, then without reservations acting, and it will be unexpectedly come to you. Whilst earning the praise and respect of his company, despite difficult working conditions, Mr Shinozuka unhesitatingly moved forwards to continue doing what he loved. He is a man with a wonderful family life, always smiling for the customers of his boarding house, students, and children alike, I feel that in learning about the life of Mr Shinozuka we can also learn about human happiness.
Interviewer:ALLES  Writer:MAYA English:Tim Wendland
◆Shinozuka Kenjiro
1971 entered Mitsubishi Motors
1978 won at Dakar Rally