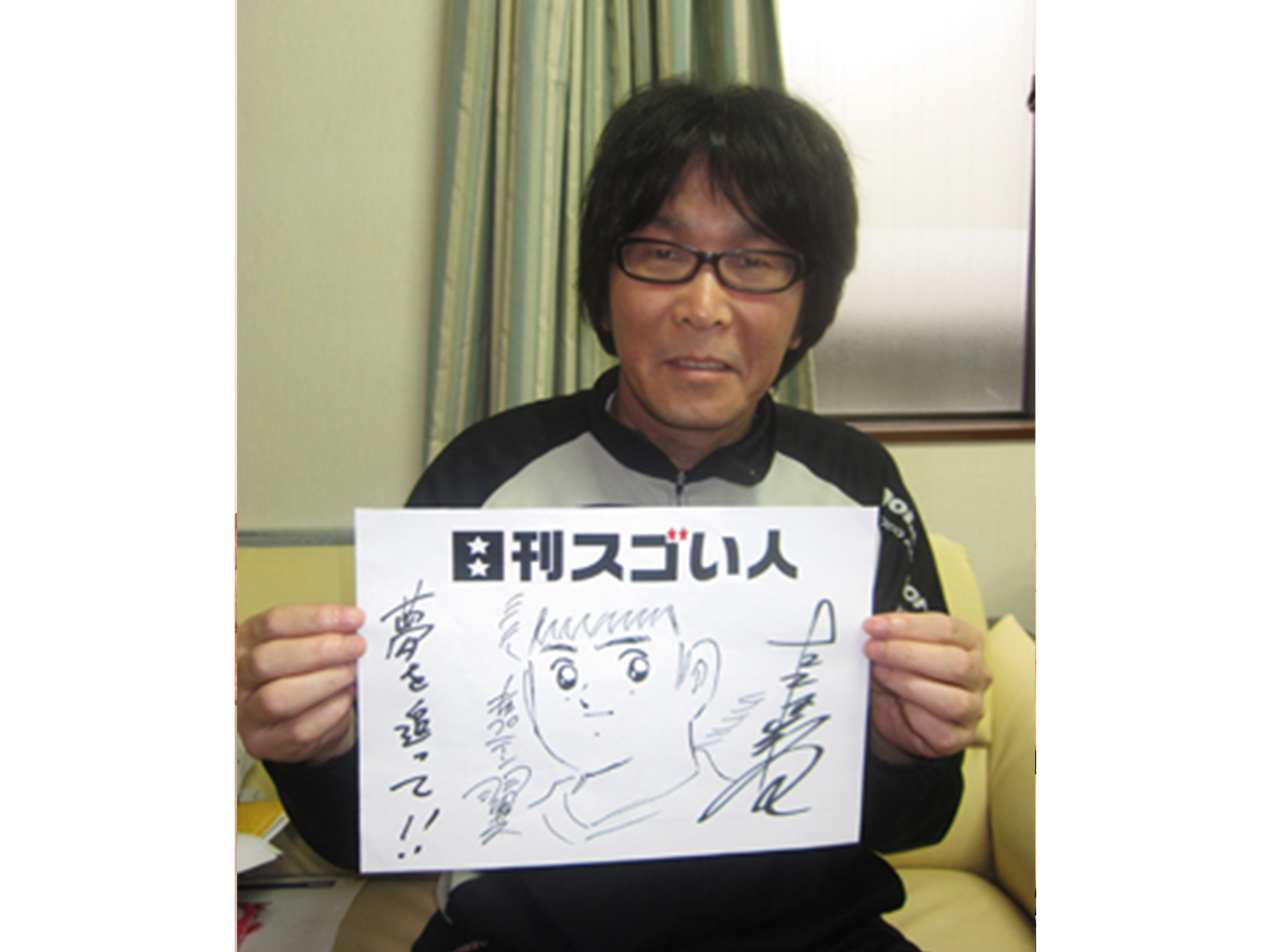 The most influential soccer manga in history, "Captain Tsubasa" has been turned into a hit anime and sold more than 80 million copies around the world. Star players Zinedine Zidane and Francesco Totti are both quoted as having begun playing the game because of the manga. It is not too much to say that this book has lifted the Japanese soccer scene sight out of oblivion.
So here we bring you the creator of Captain Tsubasa…. Takahashi Yoichi!
"Treasure your Dreams"
When I was a child I was very good a drawing. No matter what I would draw, I was praised by those around me. At the time I mimicked the manga styles of the published books available, broke up my stories into frames, created characters, and experimented with drawing my own manga. I just really liked manga, so I drew it every day. When I saw the 1978 World Cup in Argentina, I was delighted by the athletes' moves. This is what got me hooked on soccer.
When I was in high school I won an award as a newcomer artist for drawing a soccer manga. I was so happy at the time. It was surely the moment I realized I needed to be a professional manga artist.
Even so, when I graduated high school, I was torn between going to college and going into manga art. "I don't even know how to begin to make ends meet as a manga artist… will I be able to eat?" I worried. I decided to work as an assistant, and brought samples of my work to a publisher who introduced me to the famed Hiramatsu Shinji, author of the "Doberman Deka" manga. I worked under him for two years.
"Captain Tsubasa" began serialization in Shonen Jump, but was eventually cancelled. I was disappointed that I wasn't about to draw everything that I had hoped to, and grew depressed about it. But after not drawing for a while, my hands could no longer be controlled, and it was like they began drawing on their own. Even while I wasn't drawing, the story itself had grown in my head.
Forcing myself to draw drug me out of the rut. There was no longer time to sit in the rut. I love manga from the bottom of my heart, it never crossed my mind to completely give it up. I began drawing Captain Tsubasa with the message of "let's all try together, each fighting for his own dream!"
This applies to sports besides soccer too, and any kind of work. Just working towards your goals opens up all sorts of happy possibilities. There have been less sports-themed manga in Japan these days, but in the future I personally have a dream of bringing up the next generation of sports manga artists.
Editor's Selection(Translator : Orth Haruka)